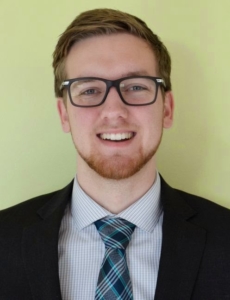 The Max M. & Marjorie S. Fisher Foundation team is excited to announce Connor McLaughlin has joined the staff as Grants Assistant.
Prior to joining the Fisher Foundation, Connor served as Strategy Associate, Community and Partner Mobilization for Michigan College Access Network (MCAN). In that role he served as the organization's initial contact for grant applicants, participated on review teams, and supported established grant partners. One of his biggest achievements at MCAN was the creation of a process to systematize the review and evaluation of grant reports in order to ensure that grant impact and lessons learned were captured and shared within the network. Before joining MCAN, Connor was the Kathy A. Agard Fellow in Community Philanthropy and Our State of Generosity Student Assistant for the Dorothy A. Johnson Center at Grand Valley State University where he received his degree in Political Science.
Staff Promotions
The Fisher Foundation team is also proud to announce that Chelsea Landry and Brianna Suarez have been promoted from Program Associates to Program Partners. The new titles stem from the Foundation's focus on the important partnership between the Foundation's Trustees and Fisher family, Foundation staff, our professional partners in the field, and the neighbors we are proud to walk alongside in communities from Brightmoor to Israel.
With all its partners, the Foundation focuses on its core mission to strengthen and empower children and families in need. We do this work with our partners through shared alignment, shared learning, and shared action to achieve increased engagement, impact, and joy in our collective efforts.
Chelsea Landry
Chelsea first worked with the Foundation as an intern in 2012, following her involvement with the University of Michigan's Development Summer Internship Program (D-SIP). Since then, Chelsea has worked in fundraising at the Detroit Symphony Orchestra and Chicago Children's Museum. She joined the Foundation full time in September 2016. Chelsea has a Bachelor of Arts degree and a Master of Social Work in Management of Human Services from the University of Michigan – Ann Arbor.
Brianna Suarez

Brianna co-leads the Foundation's arts and culture portfolio, with a strategy focused on equity and inclusion. She joined the Fisher Foundation as a Program Fellow in 2016 after nearly two years at National Center for Family Philanthropy in Washington, DC. She is a native Detroiter who recently moved back to southwest Detroit to be with family and to engage her talent and passion for social justice in her hometown. Brianna received her undergraduate degree from St. John's University in New York in Government and Politics and her Masters in International Peace and Conflict Resolution from American University in Washington, DC.